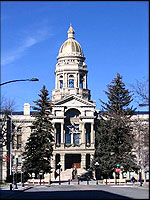 I live in Cheyenne, which is the capital of Wyoming and is about 100 miles north of Denver.
If you want to have a group or individual Trapshooting Clinic, I hold them in Cheyenne on Saturdays and Sundays, subject to club availability. I will also go to your club for a group if it is close to Cheyenne.
To learn more about my Trapshooting Clinics, visit this page. If you can't make it to Cheyenne soon or you live too far for a personal clinic, feel free to order my Trapshooting Instructional DVD, visit this page.
Otherwise, feel free to contact me. I'd love to hear from you!
Phil Kiner
8225 Arrow Wood Lane
Cheyenne, WY 82009
307-635-1451 home (evenings after 6 p.m. Leave Message)
307-630-6362 cell